William P. Clements, Jr. | Biography
Texans familiar with the name William P. (Bill) Clements, Jr. know it because of Clements' breakthrough election in 1978 as the first Republican governor of Texas since Reconstruction. But Clements' first major public service came years earlier, as Deputy Secretary of Defense under Presidents Richard Nixon and Gerald Ford. In leading the Pentagon during the challenging years of 1973 to 1977, he helped improve America's strategic standing around the world and laid the foundations of defense policy for generations to come. Clements described his years in the Pentagon as "the most fulfilling of my life," and is widely regarded as one of the most effective and consequential Deputy Secretaries of Defense in history.
Shortly after Nixon's re-election in 1972, the president tapped Clements to become Deputy Secretary of Defense. At the time, the fifty five year old Clements was a highly successful oil drilling contractor, having founded and built a multimillion-dollar company, SEDCO Inc.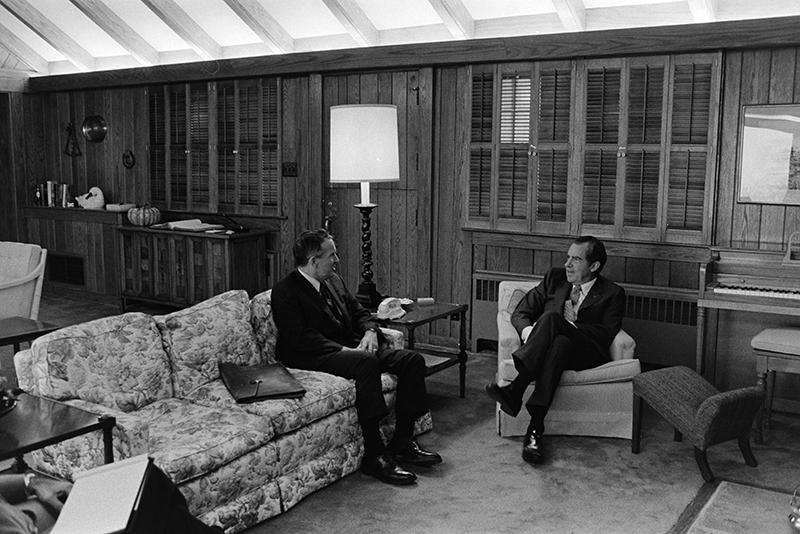 President Nixon seated informally with William P. Clements, Jr., Camp David, Maryland. November 22, 1972.
As Deputy Secretary of Defense, Clements was the chief management officer of the department, overseeing an $92.8 billion budget with 3.01 million employees in 1976 alone, and the procurement of 116 major weapons systems that cost over $150 billion over the course of his time in office.
Clements faced many challenges at the Pentagon. The years he served, 1973-1977, were marked by the final withdrawal of American troops from Vietnam, the Yom Kippur War, the OPEC oil embargo, the fall of Saigon, the second round of Strategic Arms Limitation Talks, the Cambodian capture of the American merchant vessel the SS Mayaguez, and ongoing Cold War tensions with the Soviet Union. The Pentagon itself also faced many internal challenges, including significant defense budget cuts, the transition to an all-volunteer military, and the development of critical new technologies and weapons systems.
When Clements left Washington D.C. in 1977, he had achieved uncommon success in business and the federal government, before he even considered a third career as governor of Texas.
Born in Dallas, Texas, in 1917, Bill Clements was an Eagle Scout, a class president, and an all-district football player for Highland Park High School before he attended the University of Texas-Austin and Southern Methodist University (SMU). Because of financial hardships during the Great Depression, Clements dropped out of SMU to work as a roughneck in the South Texas oilfields, eventually taking a job in 1938 with Oil Field Supply Co. In 1940, he married Pauline Gill of Terrell, Texas, whom he had met at UT-Austin. They had two children, Nancy and Gill.
In 1947, Clements bought two used land rigs and established the Southeastern Drilling Co. By 1969, his small regional land operation had grown into offshore drilling giant SEDCO Inc., which became a technical leader in the industry, developing dynamically positioned offshore rigs.
Clements was favorably viewed by the Nixon administration as a conservative with a reputation as a hard-nosed business manager whose intuitive decisions were usually right.
Meanwhile, Bill Clements became involved in politics, accepting a volunteer position for the Nixon campaign as the state co-chairman of the Committee to Re-Elect the President in Texas in 1972. The work whetted his appetite for the political appointment in Washington that would change his life and make a major impact in the national defense arena.
Clements was favorably viewed by the Nixon administration as a conservative and a hawk on defense matters, but the key factors in his appointment were personal attributes: his managerial ability, his mental toughness, his leadership skills, and his reputation as a hard-nosed business manager whose intuitive decisions were usually right.
Clements was not wholly a novice when it came to defense policy. He had participated in a 15-member Blue Ribbon Defense panel studying the Pentagon at the beginning of Nixon's first term. During this time, Clements developed expertise on defense and national security matters, particularly matters related to procurement practices and research and development.
When he went to Washington, Clements was a millionaire by virtue of his SEDCO stock holdings. He resigned from SEDCO and from various civic positions, including the SMU board of governors, Boy Scouts of America national executive board, Dallas Citizens Council executive committee, directorships in the International Association of Drilling Contractors and Independent Petroleum Association, and membership on the National Petroleum Council.
He was eager to serve, frustrated by the fact that he was kept out of the military during World War II. During the war his work building Army camps was deemed a strategically vital civilian occupation, barring him from joining the uniformed services.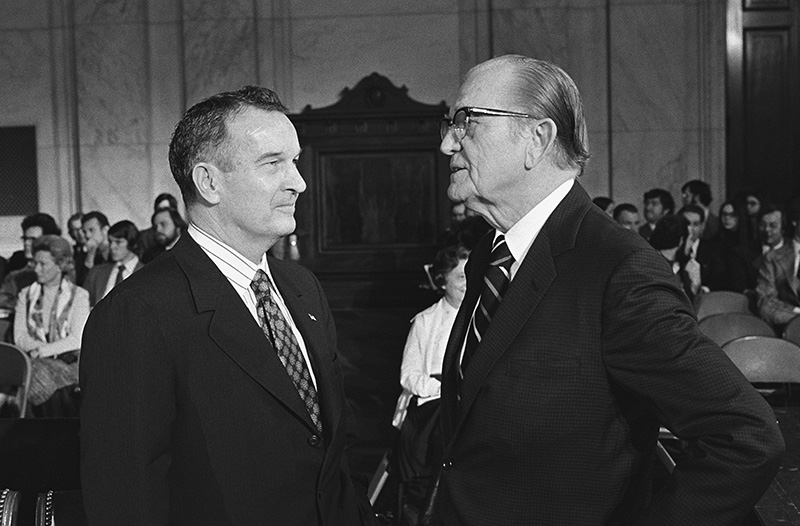 Deputy Secretary of Defense (designate) William P. Clements, Jr. (L), talks with Senator John C. Stennis (R), Democrat, Mississippi, chairman, Senate Armed Services Committee, prior to his nomination hearing at the US Capitol, 1/10/1973.
Clements served under two presidents – Nixon and Gerald Ford – and three secretaries of defense: Elliot Richardson, James Schlesinger and Donald Rumsfeld. At different junctures when the secretary's job was vacant, and as nominees awaited confirmation, Clements served as Acting Secretary of Defense. He served during one of the most politically contentious eras in Washington. The Watergate investigation and the resulting move to impeach President Nixon led to the president's resignation in 1974. Clements' service during the turmoil and transition was a stabilizing force at the Pentagon.
Four days after the Senate confirmed Clements on Jan. 23, 1973, the Vietnam peace settlement was signed in Paris, ending more than a decade of U.S. military involvement in a conflict that split the nation. On March 27, 1973, the U.S. began a three-day airlift of the last 5,236 American combat troops from Vietnam, as the North Vietnamese released the remaining prisoners from Hanoi, completing the repatriation of 587 American POWs. Clements was troubled by the hostility at home toward the military after Vietnam.
He was also concerned that Russia was moving toward a first strike nuclear capability and sounded the alarm that Russia was stepping up its defense spending, even as the U.S. was reducing expenditures. He was uneasy about the growing U.S. dependence on the petroleum reserves in the Persian Gulf and increasing Soviet interest in that region.
One of Clements most significant responsibilities at the Pentagon was the development of new major weapons systems. He helped lead the development and operationalization of a new generation of fighter aircraft, including the F-14 Tomcat, F-15 Eagle, F-16 Falcon, and F-18 Hornet. Also on Clements' watch, the Pentagon continued developing the Airborne Warning and Control System (AWACS), an airplane carrying advanced surveillance capabilities.
He helped lead the development of a new heavy-lift helicopter, the fleet ballistic missile submarines, and the M-1 Abrams Main Battle Tank. For the M-1, he overruled the Army's preference for a diesel engine and instead pressed for the innovative incorporation of a turbine engine. Additionally, Clements also oversaw the development of the Aegis combat system and the Trident ballistic missile submarine for the Navy.
The development of the cruise missile is perhaps Clements' most notable legacy in weapons design and acquisition; he has been called the "father of the cruise missile." Dr. Malcolm Currie, director of Defense Research and Engineering, called the cruise missile the "most significant weapon system development of the decade." Clements recognized that cruise missile technology had moved forward in guidance, propulsion, and electronics, and the United States needed to utilize that new technology.
Among other issues during Clements' tenure were the new all-volunteer military, military base closures following the Vietnam War, and admitting women to the service academies. He was credited with contributing to the success of the All-Volunteer Force but was vehemently opposed to women in the academies. It was one battle he lost when Congress agreed in 1975 to admit women to West Point, the Naval Academy, and the Air Force Academy.
As Deputy Secretary of Defense, Clements was appalled at the archaic telecommunications system the Pentagon employed. Each service had its own communication system and the systems wouldn't interconnect, meaning officers in field command in one military branch couldn't talk to officers in another. To remedy these limitations, Clements oversaw the modernization of the Pentagon's telecommunications systems.
Clements' supporters called him direct and outspoken; they praised him for his clarity of purpose and straightforward pursuit of his goals. Yet his blunt approach stirred some heat from the Washington press.
Clements' supporters called him direct and outspoken; they praised him for his clarity of purpose and straightforward pursuit of his goals. Yet his blunt approach stirred some heat from the Washington press. Tension developed between Clements and Secretaries Schlesinger and Rumsfeld, as well as between Clements and certain members of Congress. However, Presidents Nixon and Ford kept him as Deputy Secretary of Defense, in large part because of his knowledge, work ethic, and strength of personality which allowed him to continue to pursue his work and goals in the midst of tension and opposition.
Clements and Pauline divorced midway into his Pentagon service. In March 1975, he married Rita Crocker Bass, a longtime Republican volunteer leader whom he met during his work on the 1972 Nixon campaign. Rita became instrumental in his run for governor of Texas and was always his most valued partner and political advisor.
After the Ford presidency ended in January of 1977, Clements returned to Dallas and soon thereafter decided to defy the odds and run for governor of Texas as a Republican. He won a narrow victory in the 1978 election, defeating Attorney General John Hill and ending a century-long monopoly of Democrats holding the office of governor of Texas. He helped lead the way for the growth of the Republican Party in Texas, infusing state government with Republicans. He fostered a high-tech economy, as Texas' population exploded and the oil industry entered an episodic period of decline.
Clements lost his bid for re-election in 1982 to Mark White and returned to leading SEDCO. In December 1984, he sold SEDCO Inc. to Schlumberger Limited for $1.2 billion. Two years later, Clements launched a rematch against Gov. Mark White and handily defeated the Democratic incumbent. When his second term ended in 1990, Texas had transitioned from a state under a Democratic one-party monopoly into a competitive, two-party state.
In June of 2009, Clements donated $100 million to UT Southwestern Medical Center, the largest civic donation in Dallas history. The William P. Clements Jr. University Hospital opened in late 2014.
William P. Clements, Jr. died in Dallas in 2011 at the age of 94.
Essay by Carolyn Barta, author of Bill Clements: Texian to His Toenails